Wewow Högkvalitativ ljus 3-axlig gimbal smartphone stabilisator med tillval tillbehör
Instruktion:
Feature

Quick Adjustable By Hand
Face tracking
One-Key Back Original Position
Gestures vertical shooting
Button to Switch Front and rear camera
USB charging(Explosion-proof battery)
Button to switch photo/video
Overcurrent protection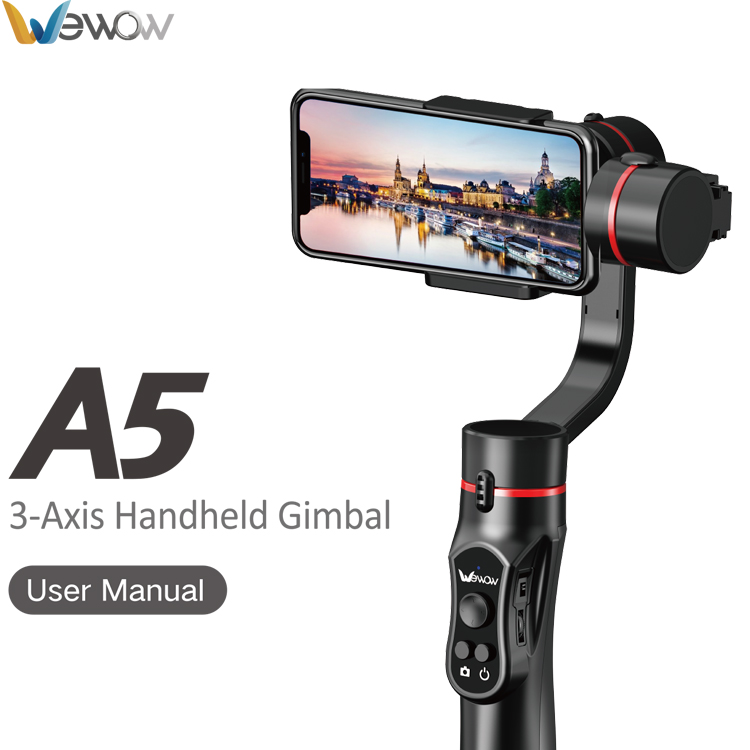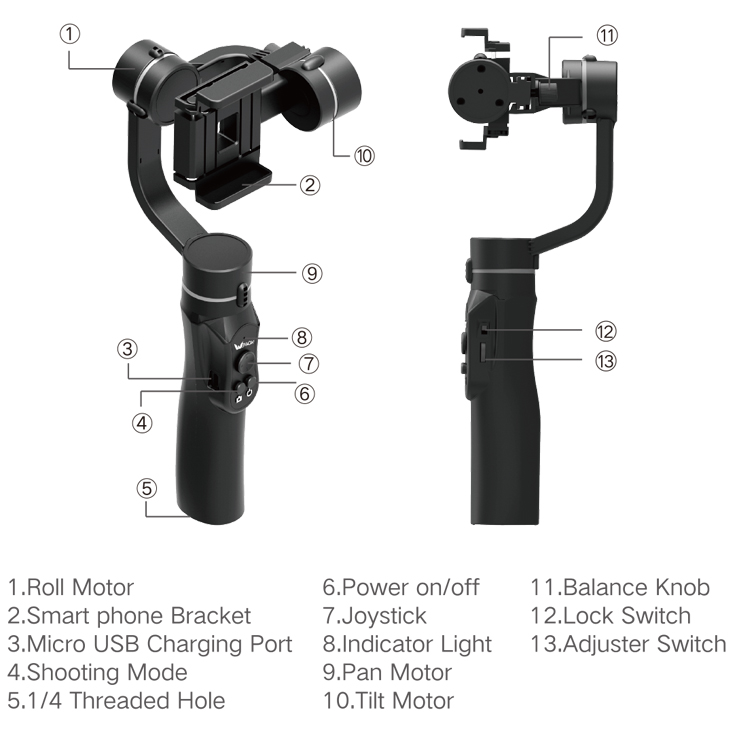 1. Roll MOtor: 180 ° rotation.
2. Smartphone-fäste: Håller smarttelefonen stabil.
3. Micro USB-laddningsport: Sätt i Micro USB-kabel för laddning av stabilisatorn
4. Fotograferingsläge:
Tryck en gång för att ta en bild.
Tryck 2 gånger för att växla mellan fram- och bakkamera.
Tryck 3 gånger för att växla mellan foto och videoläge.
5. 1/4 trådhål: För tri-pod användning.
6. Effekt: Stänger stabilisatorn på och av. Håll intryckt tills lampan tänds och blinkar blått. Dubbelklicka för att få kameran till sitt original.
7. Joystick: Styrning moverment UP / DOWN (Tilt Motor) och VÄNSTER / HÖGER
8. Indikatorlampa: Visar aktuellt tillstånd för stabilisatorn:
Blått ljus: Stabilisator i drift
Grönt ljus: Enheten är stabil och klar.
Rött ljus Blinkande: Stabilisatoröverbelastning - Stäng avladdning.
Röd och blå lampor: Stabilisator överbelastning - Stäng av omstart.
Gult ljusfel: Stäng av omstart
9. Panoramotor: 320 ° rotation
10. Tiltmotor: 270 ° rotation
11. Balanseringsknapp: Flytta vänster eller höger för att hjälpa till att jämföra din telefon.
12. Låsbrytare: NED-position: Låsläge (Tilt, Pan och Roll-motorer är låsta, håller kameran kvar). UP-läge: Låsningsläge av.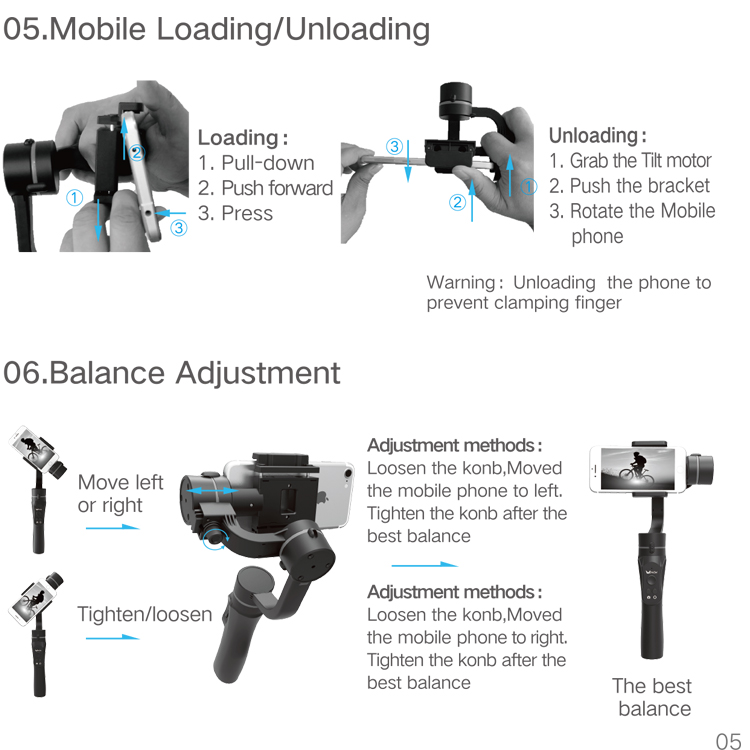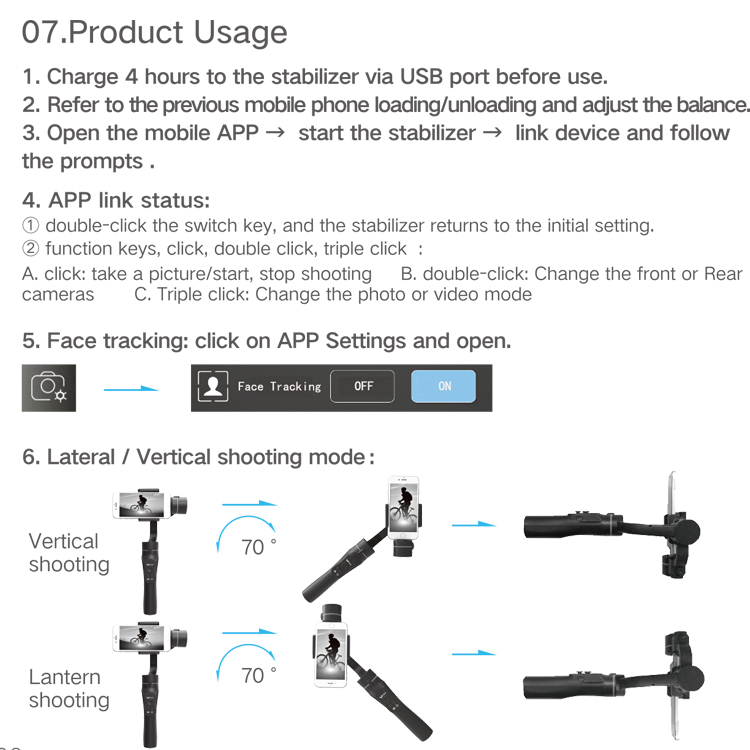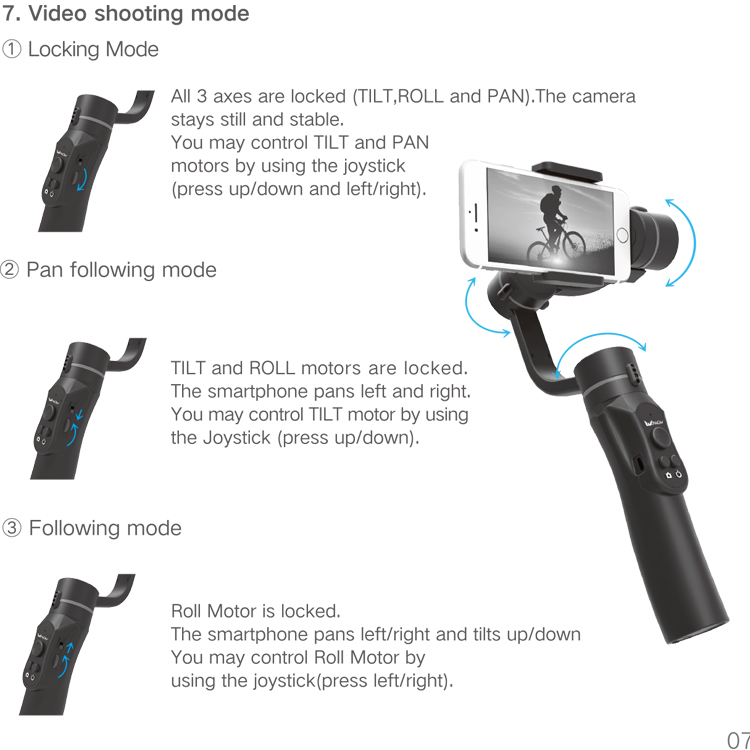 Specifikation
| | | | |
| --- | --- | --- | --- |
| Charging Voltage | 5v | No. 3 Motor(Tilt) | -180°-90° |
| Charging current | 1A | Battery duration | approx 4H |
| Working voltage | 3.4v-4.2v | Working temperature | 0°C-45°C |
| Working current | 0.2mA-2A | Net weight(including battery) | 410g |
| No. 1 Motor(Pan axis) | -160°-160° | Product dimension(L/W/H) | 320*124*55mm |
| No. 2 Motor(Roll axis) | -90°-90° | | |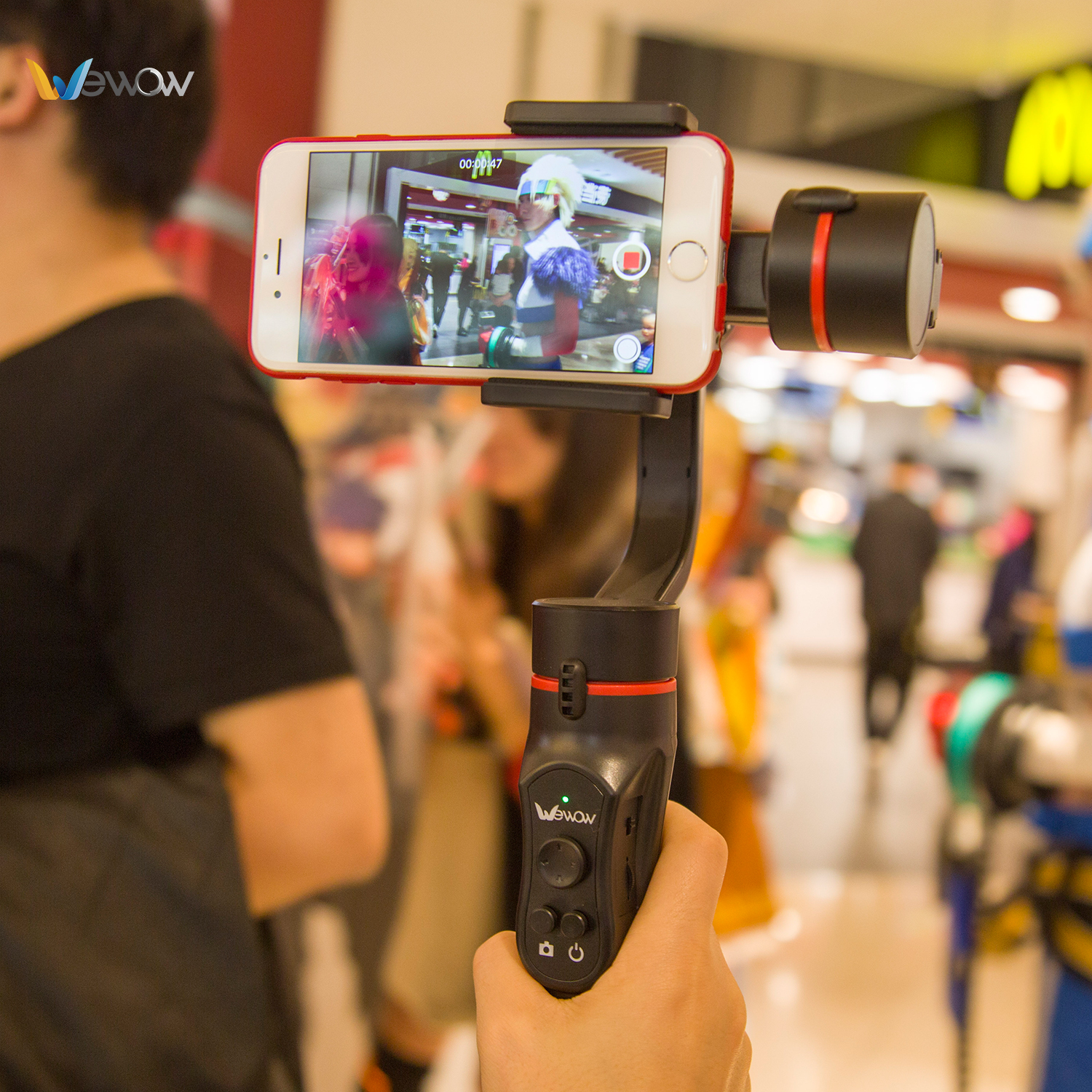 Paket och frakt:
1. 3-5 arbetsdagar genom att uttrycka och tillhandahålla dörr till dörr service.
2. 13-39 arbetsdagar av China Post Mail.
3. 22-45 arbetsdagar till sjöss.
4. Försäkringstjänst.
Vår tjänst:
1. Snabbt svar inom 24 timmar
2. Hög kvalitet med CE, ROHS & FCC certifikat
3. Det bästa erbjudandet med fabrikspris
4. Snabb och säker frakt med DHL, Air eller Sea, dörr till dörr service
5. 12 månader reparation eller byte
FAQ
01. Hur hanterar du de skadade varorna i transport?
Om produktproblemet orsakas av oss, som produkterna saknas skickades produkterna till fel plats, skulle Wewow kompensera för alla.
02.Hur att hantera problem med tullklarering?
Om problemet uppträder i våra tullar, ansvarar vi, om det förekommer hos kunderna, försöker vi vårt bästa att samarbeta med tullen för att lösa problemet, till exempel att erbjuda clearingdokumentet och andra saker vi kan göra.
03. Vilka villkor bör betraktas som att returnera varor?
A. Varor levererades av Wewow.
B. Varor finns inom garanti.
04.Hur lång tid tar Wewow att ta itu med returvarorna?
Wewow kommer att ge den första återkopplingen inom 5 arbetsdagar.
Varma tips: telefondelarna måste packas som original levereras, original etiketten får inte tas bort, även några delar kan inte användas eller skadas medvetet.
05. Hur hanterar du ansvaret när varorna är i transport?
Köparen skulle bära det fulla ansvaret för brist på varor om varorna kontrolleras av alla sedlar under transporten. Om varor går förlorade på grund av att ha blivit kvarhållna av sedvanliga i Kina, skulle all förlust som härmed inträffat borde bäras av Wewow;
Om det saknas eller kvarhålls varor inträffat i annat land utom Kina, ska alla skador bäras av köparen.
06.Hur om ledningssystemet och förpackningen?
Perfekt förvaltningssystem ligger i varje detalj. Inte bara bra intern kvalitet, men också överlägsen packning.
Produktkategorier : Treaxlig stabilisator > Treaxlig Smartphone Stabilizer